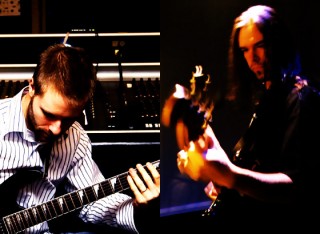 PROMEMORIA formed in 1996 by Philip Husberg and Martin Svennberg.
When the two originally very different views of music came together, the symbiosis of PROMEMORIA was born.
Only one rule was applied on the creative work: let go of limitations, let the song tell you what´s right or wrong in itself. It´s this foundation that still feeds the growth and the multitude in the group.
In the summer of 1997 Tom Lövby joined to play guitar, and this added an extra finesse and width to the PM sound and in the fall of 1999 Mattias Bergström joined to do the lyrical and vocal works. You can experience the full blend and the feelings of PM in the selftitled full-length album. It was completed in dec 2000, released in 2001 and re-released worldwide in a remastered version thru all the main digital channels, including Spotify in 2011.
In the winter of 2001-2002 the work to put together the second album started, and the decision to build a new studio was taken. Due to several delays it wasn't until november 2002 that the work on the studio could start.
In late december of 2002 Mattias Bergström jumped ship and was replaced in april 2005 by the new voice of Stefan Lindgren, in time to finish the second album "The Darkening".
Later in september the same year Jonas Ekestubbe joined to play guitars, replacing Martin's role as guitarist. The album was finished in late summer of 2006, and it also features Anna Mia Bonde on additional vocals and the lead for the song 'Utopia'.
Tom Lövby played guitars on the songs 'The Darkening', 'Out There' and 'Journey to the Unknown' alongside Jonas.
The Darkening was released worldwide on iTunes in 2007 and re-released in a remastered version thru all the main digital channels, including Spotify in 2011.
Today Philip Husberg and Jonas Ekestubbe form the backbone of Promemoria and are currently working on the third album.